Back to List
News
September 6, 2017
Gulliver's Travels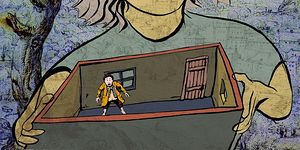 Illustration by Doug Fitch
Victoria Bond, Doug Fitch, and Stephen Greco invite you to join them for an "AOP First Chance" Development Workshop showing of Gulliver's Travels.
Opera by Victoria Bond
Libretto by Stephen Greco
Design and direction by Doug Fitch
Based upon the novel by Jonathan Swift Featuring:
Ariadne Greif, soprano
Yoojin Lee, mezzo-soprano
Scott Joiner, tenor
David Charles Tay, tenor
Jonathan Hare, baritone
Emmanuel Chumaceiro, bass-baritone
Andrew Kurtz, conductor
Kristen Kemp, piano
Friday, October 6, 2017 8-10 p.m. (performance and reception) at:
American Opera Projects The Great Room, S. Oxford Space
138 South Oxford Street, Fort Greene, Brooklyn
Tickets: $10 advance online; $15 at the door (cash only): Click here to purchase tickets
"People come in many forms, and so, of course, does love..."
Workshop co-presented by American Opera Projects and Gulf Coast Symphony, in association with Welltone New Music, Inc. Opera commissioned by American Opera Projects through the Opera Grants for Female Composers program, made possible through the generosity of The Virginia B. Toulmin Foundation. Development by Gulf Coast Symphony and AOP. World Premiere 2019 to be presented by Gulf Coast Symphony, conducted by Andrew Kurtz.
Illustration by Doug Fitch