Back to List
Repertoire
The Reluctant Moses (Bass Voice, Double Bass, SATB Chorus and Orchestra)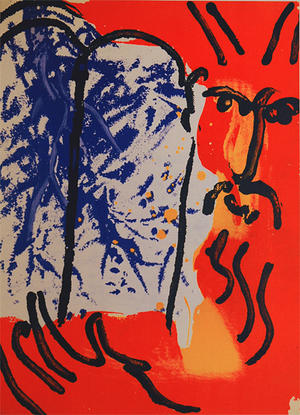 Most of us have experienced a time when we are faced with a seemingly impossible task, when we have said, 'Please don't ask me to do this' or simply, 'I can't do it' We all have had crossroads that called for difficult choices. The Reluctant Moses focuses on the moment when the biblical icon encounters the burning bush and hears the voice of God commanding him to lead the Isrealites out of Egypt. Moses is filled with awe and fear. He doesn't feel capable of taking on such a monumental responsibility. He tells God that he is not a good speaker, and that he doubts anyone will believe or follow him. God argues, cajoles and finally convinces Moses that he can do this. He will put the right words in his mind and mouth and to go before him, leading the people out of slavery. It is a dramatic story, and creating an oratorio based on it has been on my mind for many years.
When the Choral Society commissioned me to compose a work for chorus and orchestra for their 70th anniversary, I was honored and immediately thought about Moses. I knew that the voice of Moses had to be a bass voice, and I wanted to further accentuate his thoughts with a double bass, giving it even greater gravitas. I didn't have to go far for inspiration, as my father sang bass, and my grandfather played the string bass. The voice of God had to be a chorus of many voices, expressing His omnipotence.
As I was composing the work, a voice in my head said: "You must end the work with a fugue using the Ten Commandments." I was stunned. Before I could say "impossible," I realized that this actualized the whole point of my work and was the challenge that I needed to confront and accomplish.
Click here for Full Score Page 1
Full Score Page 38 (Bass Voice and SATB Chorus)
Posted: Jul-18-2016