Back to List
News
August 27, 2019
Mrs. President gets what she deserves - Great Reviews!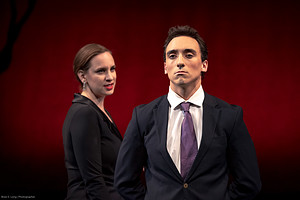 Mrs. President
Dell'Arte Opera Ensemble
Parterre Box
John Yohalem, August 24, 2019
Dell'Arte Opera Ensemble presented scenes from Act I of Mrs. President, Victoria Bond's opera about her namesake, Victoria Woodhull, newspaper editor and campaigner for women's rights (including suffrage), free love and, most notoriously, the presidency itself. She ran on a third party ticket in 1872, though a year too young to qualify. But hey, she'd married Woodhull at 15. Check her out on Wikipedia. Quite a lady. And so, I gather, is Victoria Bond.
The first scene on this program—the opera's third—began with an attractive concerted movement for several women, their texts separate, not interacting. They call upon men who are not there, and in time we realized the men are dead. It is a séance. Woodhull—or rather, her mother—was a Spiritualist, a movement that thrived before, during and after the Civil War.
The texture of this number and its mystery when performed out of context were most appealing. Then Victoria (Anna Woiwood) rushed in with issues of the newspaper she has founded, filled with scandalous reportage and even more scandalous editorials.
But one of her acolytes, Isabella Beecher, protests—Victoria has accused Isabella's famous brother, the abolitionist minister Henry Ward Beecher, of adultery with several of his parishioners. (This is accurate, by the way.) Beecher bursts in and denounces Victoria, who fearlessly demands that he admit his commitment to Free Love.
Their wrathful duet did seem … provocative … and sure enough, it turned into seduction … but who was seducing whom? Their phrases began to speed up and intercept, and the two fell at last upon her writing desk, babbling phrases, entwining their sung lines with and without meaning. We were on the edge of our seats at the blackout.
Thrilling music and thrilling vocalism and a racy libretto interacted at once! (No, it's not historically accurate. So what?) All this left me eager to hear the rest of Bond's opera. She is a evidently a composer whose sense of theater guides the music she composes and the singing she demands of her characters. Too, she is unafraid to be melodious when it suits the action, jagged when it doesn't. This is just the sort of instinct an opera requires. Besides Woiwood, whose striking, honeyed soprano and forthright and sexy acting proclaimed "leading lady" throughout this vigorous performance, the scenes from Mrs. President including attractive singing from Tyler Dobies as one of Victoria's yearning husbands or lovers (not clear which—does it matter? It didn't to Victoria), Robin Clifford as one of Beecher's unrepentant victims, Addie Rose Forstman as Isabella and Geddy Warner as the Reverend.
Berkshire Fine Arts
Susan Hall, August 22, 2019
Victoria Bond has chosen a daring subject, as much of the moment as anything you could pick: Mrs. President. Victoria Woodhull proposed running for President in 1872. Anna Woiwood takes on this role with fervor, wiliness and duplicity. She was a heroine to be sure, but one as complicated as any of the women running for the office today. Bond does not shirk away from the challenge of presenting this huge and complicated character. Her lines are woven between firm assertions and tempting and tangled suggestions that she has a knife to wield. Bond writes music that sits particularly well in the voice.
An introductory chorus of nine, including one man, is sitting around candles, waiting for Woodhull to lead a séance. Between calling forth the names of dead husbands and fathers and asking for their help, they ask Woodhull to join and lead them. This will be Woodhull's last group séance. She is going on to advocate free love and power for women. The choral composition is suggestive on many levels Bond decorates phrases with lovely chimes on the piano. She captures the urgent need for these women to make contact with the beyond. Weaving spoken and sung words, Bond's rhythms capture both language and emotion. It feels like a coffee clutch in candlelight. This work is a remarkable feat of composition, womanly or otherwise.
Bond's larger than life Woodhull was sung marvelously. Woiwood as Woodhull has a commanding voice, into which Bond weaves her ambition as a 19th century woman struggling to free herself from convention. "This was an era where a woman could not vote, could not enter a restaurant, a store, an establishment of any kind unless she was escorted by a man," say Scott Claflin, a Woodhull descendant. "It was controversial for women to do anything. But she had the foresight not to accept the way society was."
Limelight, Australia's Classical Music and Arts Magazine
Clive Paget, August 21, 2019
Hilary Bell's smart libretto underpins an intriguing new opera about the first woman to run for president of the US. Bond's score is full of melodic gestures that burst into lyrical blossoms, and her musical language is approachable and direct, but beneath the musical textures one could sense an orchestration desperate to get out. That said, she's a fine setter of words, and in Bell she's clearly found an effective collaborator whose text is direct, sufficiently poetic, and – crucially – easily musically malleable. In 2019, with Hilary Clinton's run still seen by many as a lost opportunity, it's surprising to look back at history and come across the story of Victoria Woodhull, a woman who ran for president of the United States in 1872, decades before any woman would even have the right to vote. The presented scene from the first act of Mrs. President shows Victoria interrupting a séance (a satisfyingly rich and complex vocal nonet) to announce that she is founding a newspaper to promote her liberal views on female emancipation, the rights of former slaves, and, more controversially free love.
When one of her followers, Isabella Beecher, suggests that her brother Henry Ward Beecher might be persuaded to support the cause, Victoria reveals that Beecher, a firebrand preacher, is seducing his female parishioners on the side leading to a confrontation between preacher and editor in Victoria's office. Confronted with a ready-to-print story, the at first furious Beecher begs for mercy, only for Victoria to suggest he joins her crusade for free love. In an unexpected twist, they fall passionately onto the desk, their whispered endearments bringing their love duet to an original conclusion.Storytelling here was well-defined with several intriguing digressions hinting at relationships past and future. Again, simply and cleverly staged, the young singers were led by Anna Woiwood as a strident, charismatic Victoria Woodhull and a bright-toned Geddy Warner as the stuffed-shirt preacher. Tyler Dobies did sterling dramatic service again as one of Victoria's cast-off lovers.
On this showing, Mrs. President is a work that deserves a full staging – perhaps in the run up to a Warren or Harris presidential bid?
Voce Di Meche
Meche Kroop, August 22, 2019
We are not a fan of contemporary opera in English but--SURPRISE!--we truly enjoyed the scenes so much that we will be looking for a performance of the entire opera in the future!
We enjoyed the music, the story, and the arresting performances. The story is that of Victoria Woodhull whose interesting life offered enough material for several operas or plays. Ms. Woodhull was quite a character--not only was she the first woman to run for President, a champion of women's suffrage and free love, but also a medium-- not to mention the fact that she had a seat on the New York stock exchange!
The scenes we saw began with choral music in which the voices of her séance attendees joined in strange affecting harmonies as they strove to reach the spirits of men they lost in the Civil War. Soprano Woiwood did a splendid job interpreting the role of the headstrong and independent title character as she roused her followers to her cause and as she seduced the hypocritical preacher Henry Ward Beecher, a man who practiced "free love" in secret while putting up a false front to his congregation. Tenor Geddy Warner was scarily convincing in his role, at first threatening Ms. Woodhull but succumbing readily to her advances, but only after she threatened to expose him.
Emily Bishai's excellent direction made the story both effective and affecting. Jessie Chen's set design included a desk stage left and a pile of pillows stage right. Nothing more was needed.
Tenor Tyler Dobies sang superbly as the rejected lover Joseph Treat. Other excellent cast members included Addie Rose Forstman as Beecher's sister, Jessica Harika as Victoria's mother, and Robin Clifford as Elizabeth Tilton.
The excellent singing and riveting drama captured our interest from the first moment. We wish all contemporary opera was as well written. Hilary Bell's libretto lent itself readily to the music and was dramatically valid.