Back to List
News
February 15, 2021
Victoria Bond's album "Soul of a Nation" In Celebration of President's Day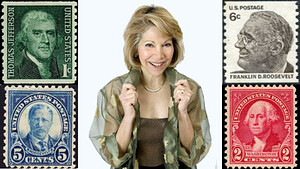 Victoria Bond discusses Presidential inspirations for her new "Soul of a Nation" album
John Lemley | 15 FEB 2021 — PRESIDENTS' DAY
Just in time for President's Day, Soul of a Nation: Portraits of Presidential Character the latest album of works from composer Victoria Bond has been released by Albany Records (Troy1723).
In the four new concertos on this album, Bond honors some of America's greatest leaders: George Washington, Thomas Jefferson, Theodore Roosevelt and Franklin Delano Roosevelt.
Bond recently joined EarRelevant's John Lemley in a long distance chat about Soul of a Nation. we offer for your consideration the following audio Q&A drawn from that conversation.
Inspired in part by Aaron Copland's great A Lincoln Potrait, which Bond has herself conducted many times, the four works presented on the album feature spoken libretti by Dr. Myles Lee, but differ from Copland;s model in that they are l concertos, performed by soloists drawn from the Chicago and Milwaukee Symphony Orchestras.
In each of these compositions, Bond incorporates musical quotations drawn from the time and life of the US president being portrayed. Pater Patriae uses fife and drum tunes from George Washington's time; The Indispensable Man features big band music from the era of Franklin Delano Roosevelt's presidency; Soul of a Nation includes music by Corelli that Thomas Jefferson kept in his personal library; and The Crowded Hours weaves in popular melodies from Theodore Roosevelt's time, such as "Take Me Out To the Ball Game."
In the words of Dr. Lee, "Each piece focuses on a single aspect of each man's character – Washington's moral clarity and prescience; Jefferson as a reluctant warrior; Theodore Roosevelt's exuberant, ultimately destructive, drive; and Franklin Roosevelt's indomitable courage – to illustrate not just their accomplishments, but the inner turmoil each man faced on his journey to immortality." ■