Back to List
News
November 6, 2021
Blue and Green Music in Indianapolis Nov, 10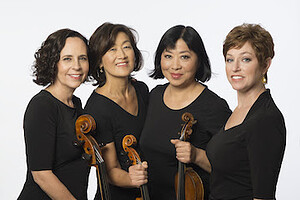 The Cassatt Quartet plays Victoria Bond's "Blue and Green Music" at the Indiana History Museum in Indianapolis.
Blue and Green Music is the name of a painting by Georgia O'Keeffe on which I have based my string quartet. The painting is an abstract study in motion, color and form, with the interplay of those two colors that dance with each other in graceful, sensuous patterns. O'Keeffe was influenced by music and said, "Since I cannot sing, I paint." Her painting is filled with music and it was my challenge to hear that music. There clearly had to be two distinct motifs to express the two colors and once I had them, they developed their own sense of direction and form.
The painting is abstract, but its forms and shades of blue and green suggest various unspecified objects in the natural world. My piece is in four movements, each exploring a facet of the two colors. Just as O'Keeffe's painting is suggestive rather than specific, so too my music is meant to evoke rather than describe.
Blue and Green Music was commissioned by the Cassatt Quartet through a commissioning grant from Chamber Music America.