Back to List
News
April 23, 2018
Berlin Philharmonic Easter Festival celebrates Clara Schumann with "Clara," an opera by composer Victoria Bond and librettist Barbara Zinn Krieger.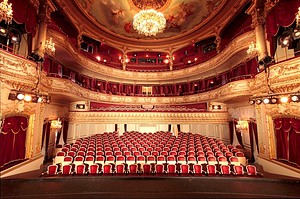 Festspielhaus Baden-Baden
Osterfestspiel 2019
Premiere of the chamber opera composed in the Brahms House in Baden-Baden. At the Theater Baden-Baden.
Accessible to the public, the Brahms House is located in Lichtental, a suburb of Baden Baden. Here American composer Victoria Bond wrote her chamber opera Clara, which renders homage to Clara Schumann, the city's most famous female resident. The performance at the Theater Baden-Baden will also be the world premiere.
Performance ends at approx.: 16:00 Uhr
In cooperation with: Berliner Philharmoniker, Festival Hall Baden-Baden, Deutsche Bank Foundation's "Akademie Musiktheater heute" and Theater Baden-Baden.
Program
Victoria Bond
Clara – Chamber opera in two acts based on a libretto by Barbara Zinn Krieger.
Michael Hasel MUSICAL DIRECTION
Stipendiaten OF DEUTSCHE BANK FOUNDATION'S "AKADEMIE MUSIKTHEATER HEUTE" REGIE, BÜHNENBILD, KOSTÜM, LICHT
Gesangssolisten OF ACADEMIES OF MUSIC OF BADEN-WÜRTTEMBERG
Karajan-Akademie der Berliner Philharmoniker e. V.
Schauspieler ACTORS OF THE THEATER OF BADEN-BADEN