Back to List
Works
Soul of a Nation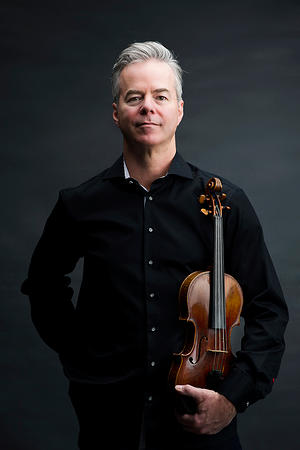 A violin concerto is normally a work for solo instrument and large instrumental ensemble. Soul of a Nation, however, is a concerto not only for solo violin, but also includes a narrator as well as a string orchestra. It is based on Thomas Jefferson who was an accomplished violinist and passionate music lover. The text, by Dr. Myles Lee, is taken from Jefferson's own writings and gives us an intimate portrait of Jefferson in his private life, away from the better-known public person.
My music is based on a work found in Jefferson's library. It is by the Baroque composer Arcangelo Corelli and is a set of variations on a theme called "La Folia" which originated in the 1500's. This theme was the basis for improvisations and became a favorite of composers over the centuries. Soul of a Nation continues this tradition, with each variations expressing the volatile changes of mood in Jefferson's words.
Composed for violinist Frank Almond, the concerto will have its official premiere on Cutting Edge Concerts New Music Festival on April 13th, Jefferson's birthday, with renowned actor Gerard Doyle reading Dr. Lee's script. In addition, the concerto will receive a California preview performed by violinist Samuel Fischer and the Riverside County Philharmonic with narrator Larry Cedar whose recent success playing the role of Thomas Jefferson in the play "The Gospel According to Thomas Jefferson" won him rave reviews in the Hollywood Reporter.
Posted: Aug-17-2016