Back to List
Discography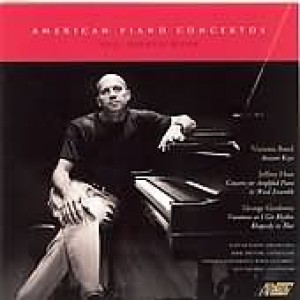 American Piano Concertos

Ancient Keys
The idea for the piano concerto Ancient Keys began as a fragile melody, sung by the pianist Paul Barnes, on a foggy hillside in the Czech city of Zlin. Paul and I were on our way to a recording session for my first piano concerto and he was relating to me his ecstatic experiences singing in the choir of a Greek Orthodox Church. I asked him to hum me the melody of one of the chants, and he sang, in a beautiful and clear voice, a melody, which in Greek is called Potirion Sotiriu meaning "Cup of Salvation" in English. The melody was haunting in its purity and profundity and I resolved, then and there, to incorporate it into a piano piece for Paul.
Thus began a long and fascinating journey of discovery, exploring how this melody related, not only to the mystical chants of the Christian Church, but also to my own Jewish background. There was a universality to the meditative effect of these notes, which evoke a peace and contemplation of the wonder of creation.
The first version of the melody was a solo piano work called Potirion Sotiriu. Paul liked the piece so much that he performed it extensively around the world and often included an actual choir singing the original melody both before and after the piano version. When I had the opportunity to expand the solo piano piece into a piano concerto, I decided to incorporate the sound of those deep, resonant voices into the orchestra. I pictured an enormous space, filling up with rich bass tones rising and swirling around, gradually disappearing like delicate smoke into a high dome. This would be a cleansing bath of sound which could purified and refresh all who heard it. The piano would act as spiritual guide, leading the listener through the healing sounds . The result is Ancient Keys.
I began work on Ancient Keys in June, 2002 in a very sacred place - the house where Johannes Brahms spent many summers composing and hiking in the Black Forest. I had been awarded a "stipendium" or grant from the Brahmshausgesellschaft in Baden-Baden, Germany to spend the month of June in this house, now converted into a museum and an artist's residence. I had received this grant once before, and six years ago discovered this inspiring environment. It seemed the ideal place to compose, particularly a piano concerto. This instinct proved true, and I awoke each morning at dawn, spending the morning hours immersed in writing and the afternoon in hiking those very same paths that the Master had walked so many years before. There seemed to be a continuity and an encouragement, and though Brahms contribution to the literature is above mere mortal understanding, his presence and his mighty legacy was a beacon leading me on.
Related Links